More than
6 million
downloads.
IETester is free.
To support the project
you can make a donation :
or you can translate it.
IETester is a free (both for personal and professional usage) WebBrowser that allows you to have the rendering and javascript engines of IE11, IE10, IE9, IE8, IE7 IE 6 and IE5.5 on Windows 8 desktop, Windows 7, Vista and XP, as well as the installed IE in the same process.

This is an alpha release, so feel free to post comments/bugs on the IETester forum.
: Windows 8 desktop, Windows 7, Windows Vista or Windows XP with IE7 minimum (Windows XP/IE6 config has some problems and IE8 instance do not work under XP without IE7)
: IE10 is not available on IETester if it is not the default IE version installed on the system. So IE10 is only available on Windows 8 machines.

(IETester v0.5.4 zipped installer for people unable to download .exe files due to proxy limitations)
(You can download previous versions from the ChangeLog page)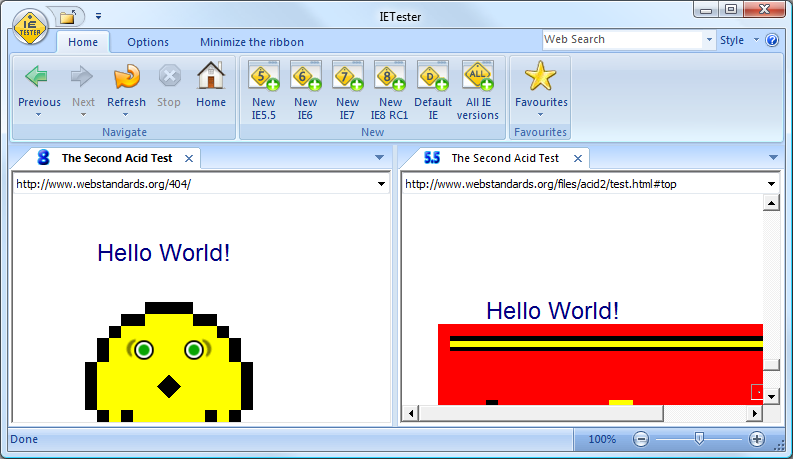 Known problems and limitations :
The Previous/Next buttons are not working properly
Focus is not working properly
javascript "alert" and "confirm" methods are not working
The input type file is not working (the file selection dialog does not open)
Java applets are not working
Flash is not working on IE6 instance in user mode : A solution is to launch IETester as admin user and Flash will work.
CSS Filters are not working correctly in user mode : A solution is to launch IETester as admin user and CSS Filters will work.
windows.open does not return the newly created window but null (IETester limitation)
External ressources :
This article is translated to Serbo-Croatian language by Jovana Milutinovich.
This article is translated to French language by Kate Bondareva.